Zayna Khayat is the Senior Advisor of Health System Innovation at MaRS and Director of MaRS EXCITE. She is also a member of the EXCITE International Advisory Council.
---
Zayna is the Future Strategist with Saint Elizabeth a health and social impact enterprise with a major focus on home care. In 2017 she spent the year on secondment to the REshape Health Innovation Centre at Radboud university medical centre in Nijmegan, Netherlands where she led several initiatives to advance health innovation in the country.  From 2014 to 2017 Dr. Khayat lead health system innovation with MaRS Discovery District, a major innovation hub based in Toronto. At MaRS, Zayna and her team helped smooth the path to adoption of innovation by healthcare systems in Ontario and around the world. 
Zayna is adjunct faculty with the Rotman School of Management in the Health Sector Strategy stream where she teaches a health MBA course on Healthcare Innovation. 
Dr. Khayat was previously a senior leader and adjunct faculty member with the International Centre for Health Innovation at the Ivey School of Business at Western University. 
From 2010-2012, Zayna was an associate partner with SECOR Consulting/KPMG Canada. There, Zayna worked with medium and large sized public and private health and life sciences organizations in Ontario and nationally on issues of strategy and management. Prior to joining SECOR-KPMG, Zayna was a Principal with the Toronto office of The Boston Consulting Group (BCG), a global management consulting firm, from 2001 to 2010.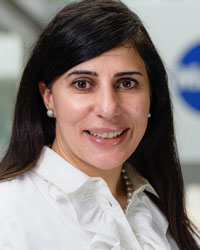 Zayna Khayat
Senior Advisor, Health System Innovation and Director, MaRS EXCITE
Zayna earned her Ph.D. in biochemistry from the University of Toronto / Hospital for Sick Children where she was a scholar of the Canadian Institutes of Health Research, studying how insulin and exercise regulate blood glucose in the muscle, and why/where this process breaks down during disease states such as diabetes. She has more than 10 publications and chapters in international journals and textbooks. 
Zayna completed undergraduate studies in biochemistry at the University of Windsor, where she earned the President's Medal for top all around graduate of the University (1996) and the Board of Governor's Medal for top graduate of the biochemistry department.
Zayna speaks proficiently in French and Arabic, and is based out of Toronto where she lives with her husband and 3 children.
---