Nicole Mather leads the Office for Life Sciences, a joint government unit in DH and BIS, and is a member of the EXCITE International Advisory Council.
---
Nicole leads the Office for Life Sciences, a joint government unit in DH and BIS, and working closely with No10. She is responsible for a range of flagship government programmes which are key elements of the transformation of our NHS, enabling the system to embrace classes of innovations as they evolve - the Test Beds programme, the 100k Genomes programme, the Health Data Finder and the Accelerated Access Review. OLS has also recently taken over greater accountability for trade and inward investment in healthcare and life sciences, working with UKTI Life Sciences, Healthcare UK and FCO teams around the world.
Through OLS, Nicole chairs and leads the delivery, via cross-government boards, of a range of programmes such as the Early Access to Medicines Scheme, the advanced therapies manufacturing task force, a digital health industrial strategy and development and delivery of a trade and inward investment strategy across life sciences. OLS joins up Life Sciences policy from Innovate UK and NIHR to MHRA, NICE and NHS England.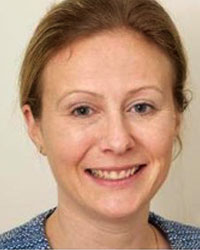 Dr. Nicole Mather
Office for Life Sciences (OLS)
As Director of OLS, Nicole works with Ministers across both Departments, leading on policy development for the Life Sciences in the UK, being responsible for government's relationship with life sciences companies from GSK and AZ to health tech start-ups – a £60b industry. OLS covers over 200,000 employees from biopharma and cell therapies, med tech, diagnostics and genomics and digital health; we aim to create the best environment for companies to invest in the UK and to help get the products we need to clinicians in our NHS - improving patient outcomes and service efficiency, building on the 2011 Life Sciences Strategy and evolving the way government collaborates with innovators.
Prior to leading OLS, Nicole was a Director in Deloitte's Healthcare and Life Sciences Strategy Consulting practice, and an Associate at AT Kearney. She has an MA in Physiological Sciences and an MSc and DPhil in Neuroscience from the University of Oxford.
---