Dr. Amit Oza is a Medical Oncologist and Professor of Medicine at University of Toronto and a member of the International Scientific Collaboration (ISC) at EXCITE International.
---
Dr. Oza is also Head of Division of Medical Oncology at Princess Margaret Cancer Centre, University Health Network and Mount Sinai Health System.
He is Co-Director of the Bras Drug Development Program and Medical Director of Princess Margaret Cancer Centre's Cancer Clinical Research. He graduated from St. Bartholomew's Hospital, University of London (UK) and completed his internal medicine and medical oncology training in UK.
He completed Clinical Research Fellowships at St.Bartholomew's Hospital/Imperial Cancer Research Fund, London (UK), PMH, Toronto and at the Netherlands Cancer Institute, Amsterdam. He is a Fellow of the Royal College of Physicians of London and Canada.
Dr. Oza has been the PI and program scientific lead for the Princess Margaret Hospital Consortium over the last 10 years which has led over 100 early phase academic trials in Canada.
He was Co-Chair of NCI Investigational Drug Steering Committee from 2014-2016 and is co-chair of the NCI Gynecologic Cancer Steering Committee.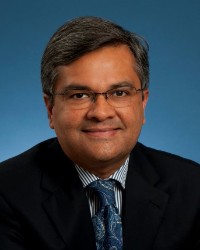 Dr. Amit Oza
MD (Lon), FRCPC, FRCP, Professor of Medicine, University of Toronto
He established and has been CEO of Ozmosis Research, a not for profit social enterprise clinical research organization.  He has been an active PI and co-investigator in phase I, II, and III trials for gynecological cancer and is an executive Director of Gynecologic Cancer Inter Group. His research interests are focused towards the development, assessment and validation of novel therapeutic strategies for cancer including molecular targeted therapies.
Many of these studies also incorporate novel endpoints and translational research, which are developed in close relationship with scientists and pathologists at Ontario Cancer Institute/Princess Margaret Cancer Centre.
He is the principal and co-author of >200 publications in major peer-reviewed journals such as New England Journal of Medicine, Lancet Oncology, Cancer Research, Journal of Clinical Oncology, Annals of Oncology, Investigational New Drugs and Clinical Cancer Research.
---